A landscaped garden always looks attractive and it also makes our home safe at night. Solar lighting has gained popularity in a short span of time. Since it's cost-effective and requires less maintenance more and more people are showing interest in installing a solar light. With no wiring or electricity these lights can be installed anywhere without the help of an electrician.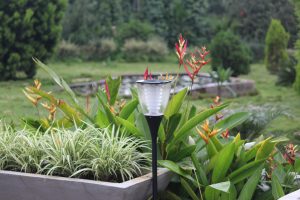 Solar Cell Garden Lights are the best when it comes to landscaping our garden for 4 reasons.
It is easy to install
It can eliminate the electricity bills
It's easy to maintain
They work more efficiently at night

There are a variety of solar lights available in the market which we can always select from fitting as per our needs. Some of the lights can be staked into the ground along the pathway and flower beds, hang it from tree branches or even attach to deck posts and walls.
The working of a solar cell light is almost same as other solar lights. During the day photovoltaic panels absorb sunlight and when it gets dark outside, the stored solar energy is then converted to electricity as the batteries gets charged and power up the LED bulbs. Solar garden lights are designed in a way that it could withstand any type of weather. They are weather-proof, UV-protected and roughly built for extreme sustainability.
When the night falls these lights shine even brighter, making it look perfect for landscape lighting. These solar-powered LEDs have a lifespan of more than 100,000 hours compared to an average incandescent bulb which gives only around 3,000 hours. The advancement in solar industry have led to invention of modern solar lights that are fixed with super bright LEDs that needs less power and shine for a longer period. The photovoltaic cells are more efficient nowadays at storing solar energy which enables the solar garden lights to keep working throughout the year even during cloudy and rainy days. Compared to this, the conventional filament bulb runs only for few hours and gradually it emits a dim light.